About Lori Aukai Schamerhorn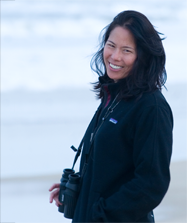 As a native of Hawai'i, enjoying the beauty of nature came easy for me. Growing up on the island of O'ahu, my playground included sandy beaches, oceans of all shades of blue and green, lush mountains, tall waterfalls, dancing palm trees, and a variety of land and ocean wildlife.
Surprisingly, my interest in photography was sparked during my college years on the mainland. Through an uncle, who decided to share his passion of photography with me, I received as a gift a Canon A-1 and several lenses. I continued to take photos throughout my college years, which were mostly comprised of people and events. As a student with limited financial resources, my priorities were to finish college and get a job in my field of study. A hobby such as photography was a luxury. The cost of film and developing photos were both expensive. Eventually, the camera and lenses were stored away for several years until I sent them to my younger sister who was in college at that time.
As life went on, my interest in nature was reignited with the purchase of a "ten-dollar" pair of binoculars. I became an avid back-yard birder. I would sit in my folding chair and bird watch for hours. I eventually purchased a good pair of binoculars as my fascination of birds continued to grow. When I joined the Richmond Audubon Society, I met numerous photographers on birding trips and events. There were so many benefits in having a camera in hand, especially a digital camera! If one could not readily identify a bird, just snap a photo or two or three or a gazillion, and identify the bird later. In addition to keeping a bird list, digital photos could serve as a bird photo journal.

In 2008, I purchased used camera equipment. Like my first of set of binoculars my camera equipment continues to improve over time. With binoculars and camera gear in hand, my hobby as a nature photographer took off. Most of my photography has been in Virginia and other states along the East Coast. I have had several opportunities to visit my home state of Hawaii. Each trip home is a new adventure. It is as though I am discovering my home state through a new set of eyes. In addition to the beautiful landscape, there are birds! Standing on the edge of black lava rocks just a footstep away from pounding waves while waiting in anticipation for marine birds to glide across the water is worlds away from sitting in a folding chair in my backyard.
Nature photography is a wonderful hobby. It is my hope that by sharing my photos that they will to help encourage the connection between people and nature, and more importantly, increase efforts to preserve the earth and wildlife for generations to come.